You don't need a college degree in order to find a high-paying job. Period. I made my first million in my mid-20s, and I didn't have a college degree.
You can learn more about my story here, but in the meantime, let's destroy the myth that you need college in order to make it in America.
1. Software Engineer
A software engineer is someone who uses computer programming to build applications or parts of applications. They might work on apps for companies like Spotify or Uber, or build back-end software that helps run a cruise ship.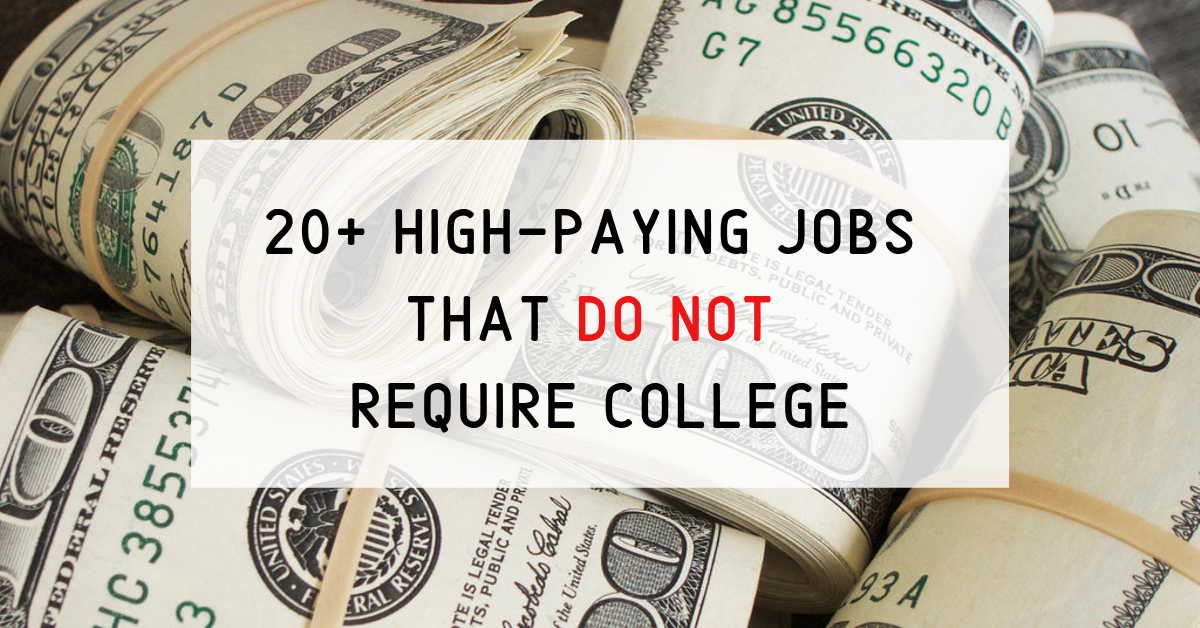 Software engineers are the gold miners of the Information Technology gold rush. Businesses, governments, and nonprofits nearly everywhere are in extreme need of software engineers.
If you're a disciplined, analytical, and process-oriented worker, software engineering could be your ticket to a high-paying career.
You can earn a salary anywhere from 35-200k+ as a software engineer, not counting benefits. Even better, you can find endless business opportunities working with startups that are willing to give equity to developers. You can even start your own business or side hustle using your programming skills.
Here are some resources for getting started:
From 0 to 100k in 3 years as a software engineer salary
Here's how to learn software engineering/coding – without college learning
Here's how to build your own software business as an engineering business
Salary Range: 60 – 200k+
2. Web Developer
A web developer is a particular type of software engineer, but they're often seen as different careers, so we'll cover both of them here.
Web developers can build apps for the web, focus on the nitty-gritty software backend of websites and servers, or focus on front-end design for websites and apps. The possibilities are endless.
This website wouldn't be possible without the web developer we hired to put our design ideas into motion as a WordPress theme. Our financial calculators wouldn't be possible without the other web developers who designed and build the plugin and the actual calculations.
Almost every entity needs help from a web developer either directly or indirectly. As a web developer, you'll have countless options for your career – get a job, work freelance, or start your own business.
Here are some resources for launching a web development career:
How to make up to 100k as a web developer
How to learn web development fast
How to build a SaaS business by yourself
Salary Range: 70 – 125k
3. Hair Stylist
Hairdressers offer a variety of hair services like cutting/coloring hair and styling hair for events. Most people get overwhelmed because of everything a hairdresser does, but the secret to making great money as a hairdresser is mastering one thing that you know you can do the best.
For example, one of my friends discovered there was a need for affordable hair coloring. She took pictures of her clients' finished hair and promoted her services on social media. Now, she's constantly booked and makes more money than hairdressers who offer the same service for more money but have less bookings.
If you work hard and master the art, you'll build lasting relationships with customers and get plenty of referrals. The best part is that you can set your own rates and work flexible hours.
Don't be misled by the relatively low salary of a hairdresser below. The key to making it as a hairstylist isn't to work at Supercuts – it's to launch your own service and grow through referrals.
If you're good, the job you'll have as a hairstylist is just to hold you over until you start your own service. That's when your income can drastically increase.
To become a hairdresser, you'll need to go through cosmetology school which takes as little as 8 months to as long as 2 years to complete.
Here are some resources for becoming a successful hairdresser:
How to Make Six Figures as a Hairstylist
Hairdresser Career Information: Becoming a Hairdresser
How to Open a Successful Hair Salon
Salary Range: 30 – 126k
4. Plumber
The best careers are usually the jobs where you have to have a particular skill in a market with massive demand. Plumbing is one of the best examples of this kind of successful career.
Plumbers do everything from hooking up sinks to fixing leaks to cleaning out clogged pipes. Some plumbers specialize in one particular niche. Shaun's uncle specializes in water heater plumbing as a niche – and couldn't be happier.
The more you specialize, the more options there are for building a more lucrative career without needing lots of infrastructures.
Specialization is key to building a lucrative career. This is especially true in large cities where there are more options for specialization and targeting small, in-demand niches.
In a world where fewer and fewer young people are pursuing realistic, in-demand, skilled careers, becoming a plumber can prove to be lucrative. Just try to find an emergency plumber on a weekend to fix a leak in LA and you'll see what I mean.
Of course, with a career like plumbing, you should seriously consider starting your own plumbing service business whenever it's possible – that's where the real money is going to be found.
Sweet Smell of Money for Plumbers
How to Become a Plumber
How to Start a Plumbing Business
Average Salary Range: 50 – 100k+
5. Electrician
Electrician work is another example of an extremely in-demand skill that many people tend to overlook even though the demand for electricians is growing faster than for other occupations.
For a hard-working, detail-oriented person, becoming an electrician is a nearly guaranteed source of a great income.
Plus, electricians have the ability to start their own electrical services business once they have the right credentials and licensing. The sky's the limit for someone who is able to run their own electrical services business.
To become an electrician, start by taking technical courses and joining an apprenticeship program. The training program to become an electrician is as little as 9 months, but you'll need to serve as an apprentice for about 4 years. While you're an electrician apprentice, you'll make 30-50% of what a licensed electrician will make.
Unlike college students who are racking up debt, electrician apprentices get paid to learn their trade. That's a great start to a great career.
How to Become an Electrician
My Electrician Makes More Than a Doctor
How to Start an Electrical Business – An Electrician's Guide
Salary Range: 33 – 101k+
6. Real Estate Agent
Being a real estate agent is a fantastic job if you love networking. It's a great way to establish yourself in a community and put your social skills to work.
Real estate agents can choose to list the commercial or residential property. They make money based on the commissions from the properties they sell. This means there is no cap on the income you can earn.
Real estate agents make approximately 2.5-3% commission on the properties they sell. For example, if a home sells for $200,000, the real estate agent would make about $6,000 from that property.
It can be extremely satisfying to help people buy or sell their homes. You build connections with your clients and earn the trust of others in your community who know you can find them a perfect home or sell their property at a great price.
In as little as four to six months, you can become a licensed real estate agent. The best part is that there is always room for growth. After five years of being a real estate agent, you have the opportunity to become a real estate broker and hire other real estate agents to work for you.
How to Make Six Figures as a Part-Time Agent
How to Become a Real Estate Agent
How to Start a Real Estate Business
Salary Range: 24 – 105k
7. Makeup Artist
In the age of social media, being a makeup artist is as lucrative as ever. If you're artistic and have a passion for makeup, being a professional makeup artist is a wonderful career.
Makeup artists are in high demand for weddings, photoshoots, and special events. Makeup artists take the stress of getting ready away from their clients and make sure they look their best on their special day.
You don't have to go to cosmetology school to become a makeup artist. There are plenty of free resources online to help you master the art of makeup.
Getting started is easy – it all starts with testimony. You can showcase your makeup skills on social media for prospective clients to see. It only takes a couple of successful clients to get the word out.
There are plenty of creative ways to get noticed as a makeup artist. For example, a friend of mine who is a professional makeup artist reached out to local photographers with pictures of her work so they could refer her to anyone who booked a shoot with them.
If you're a freelance makeup artist, you have the freedom to start your own business and set your own rates. If you live in a big city, there are plenty of opportunities. This is especially true in LA where photography and film production are more prevalent.
Going Independent: How to Establish Your Own Makeup Artist Business
How to Become a Makeup Artist: Advice From Top Professionals
6 Ways to Build Your Reputation as a Makeup Artist on Instagram
Salary Range: 20 – 121k
8. Retail Manager
If you're organized, a team leader, and have great social skills, being a retail manager of a well-performing store could earn you a great full-time income.
Retail managers often receive financial incentives for taking their store's sales to the next level. There are always rewards for great store performance. It's not uncommon for an experienced retail manager to make six figures.
The best way to start is to begin as a sales associate at a retail store you see yourself having a future in. It's not common to switch stores while being a sales associate. It might take a couple of tries to find a store that works best with your goals and personality.
Once you find a store you see yourself staying in, work your way up from being a sales associate. Demonstrate initiative and don't be afraid to let your manager know you want to stay with the company long-term. This is important for stores to know so they can track your growth and put you through proper training programs if necessary.
Salary range: 45-100k
9. Small Business Owner
These days it's easier than ever to turn a passion or hobby into a small business. Small business owners have a unique opportunity to grow their business and make a great income while serving their community.
Some examples of well-performing local small businesses include but are not limited to commercial cleaning services, hair salons, auto-shops, restaurants, lawn services, and consulting.
A small business doesn't have to be as traditional either. For example, I have a friend that is a very talented artist. Growing up, friends and family encouraged him to pursue something else because art would never be a reliable source of income.
Despite the discouragement, he started an art studio, networked, and made himself a well-known artist in the community. Now he earns over six figures doing what he loves.
Don't know where to start? There are a plethora of online resources to help you guide you through how to start and manage your small business.
The Complete, 12-Step Guide To Starting a Business
50 Small Business Ideas For Anyone Who Wants to Run Their Own Business
Breaking Down The 100k A year Barrier With Your Small Business
Salary Range: 30 – 182k
10. Executive Chef
If you're hard-working and great at managing a team, being an executive chef could be your ticket to earning six figures.
It's not uncommon for executive chefs that work at 5-star restaurants or hotels to make six figures. Fine dining is exploding in demand, and great chefs are needed now more than ever.
You don't have to go to culinary school to become an executive chef, but it does give you a more diverse background and food and provides networking opportunities. Culinary school can take anywhere from one to four years depending on how advanced you'd like to be.
To become an executive chef, you'll need plenty of experience and an excellent reputation. No one becomes an executive chef overnight. The highest-paid chefs often spent years working under another chef and learning how to perfect their culinary techniques and manage a kitchen.
Salaries for chefs vary widely and can range anywhere from 40k to over 100k depending on the location and experience.
How to Become an Executive Chef
How Much Money Can You Earn as a Chef?
Business?
Average Salary: 41 – 100k
11. Pharmaceutical Sales Rep
Looking for a rewarding career in the sales side of the pharmaceutical industry? If you're a natural salesperson and enjoy building relationships, being a pharmaceutical sales representative could earn you a fantastic salary with great benefits.
Pharmaceutical sales reps are hired by pharmaceutical companies to educate physicians about their products. They need to be experts on their company's products, the conditions the drugs treat, and similar drugs on the market.
Many pharmaceutical sales reps are paid commissions and bonuses in addition to their salary. This means that there are always incentives for growth and new opportunities to make money.
How to Become a Pharmaceutical Sales Representative
How You Can Earn $200k in Medical Sales
Business?
Average Salary: 50 – 200k
12. Construction Manager
If you're great at multitasking and project management, a career in construction management could earn you up to $120,000 per year.
Construction managers oversee building sites and direct operations to make sure everyone on their team is doing what they need to be doing. They also handle the logistics of the building project like scheduling, finances, and safety.
To become a construction manager without a college degree, you'll need to pursue a career in construction early on. Start managing small projects and gain the experience to pursue bigger ones. The more project experience you have under your belt, the more attractive you'll appear
to employers.
How to become? (all sources list college as a requirement)
Business?
Salary?
Salary Range: 44 – 141k
13. Commercial Pilot
If you're patient, focused, and hard-working, being a commercial pilot could be a fantastic career for you. Commercial pilots make $130,000 on average, but like most well-paying jobs, it requires plenty of training.
A degree is not necessary to become a pilot, but a minimum of 1,500 hours of flight experience in various situations is required. After obtaining the hours, you pilots need to become licensed by passing the Federal Aviation Administration Practical test.
Pilots don't necessarily have to work on commercial airlines. They can fly jets for UPS, FedEx, or USPS. They also have the option to fly private planes, helicopters, or fire-fighting aircraft. Combining one or more of these with a commercial airline job might be a great way to boost your income.
Become a Licensed Commercial Pilot: Step-by-Step Career Guide
How Much Do Commercial Pilots Make? Salary and Requirements
Business?
Salary Range: 62 – 146k
14. Graphic Designer
If you're creative and like visual storytelling, graphic design could be a great industry for you. A graphic designer is someone who creates visual concepts such as logos, advertisements, signs, etc. They might work for a company, be a freelancer, or have their own graphic design business.
Graphic design isn't just doodling. Graphic designers work closely with clients to make sure the final product fits the client's vision. Their job is to visually communicate a message with their designs.
Although college isn't necessary to become a graphic designer, experience makes all the difference. Good graphic designers often have a portfolio of their work ready to show clients.
These days, almost all graphic designers use software such as Adobe products to create high-quality and professional designs. There are plenty of free resources online to help you get started and learn how to use the design software.
How To Get Into Design Without a Degree
How I Built A Six Figure Graphic Design Business in 4 Years
How To Start Your Own Graphic Design Business
Salary Range: 32 – 70k
15. Air Traffic Controller
An air traffic controller is responsible for safely guiding planes during takeoff, landing, and while the plane is in the sky. They also manage the order of planes in and out of the airport to improve efficiency and minimize delays.
Being an air traffic controller requires total concentration and can be very stressful. It's not an easy job. Because of this, the salary can be as high as $212,000. If you're focused and remain calm under pressure, this might be the career for you.
To become an air traffic controller without going to school, you'll need 3 years of experience in the aviation field, be under the age of 30, and pass the necessary tests. It can take anywhere between four to eight years to become fully certified as an air traffic controller.
How to Become an Air Traffic Controller
Business?
Salary?
Salary Range: 49 – 212k
16. Sales Representative
There are two different types of sales representatives – ones that sell to customers directly and ones that sell to businesses on behalf of wholesalers or manufacturers. If you're goal-oriented and have great communication skills, being a sales representative could be very rewarding.
Depending on the job, a sales representative might be paid commissions on top of their hourly wage or salary. This is a great financial incentive because it means there is no cap on the money you can earn.
To be a well-paid sales representative, you'll need plenty of experience. Most sales representative jobs are entry-level. Start at a company with products or services that you are interested in selling and you see opportunities for growth in.
10 Keys to Successful Selling for the First-Time Sales Rep
Eight High Paying Sales Jobs
How to Earn Six Figures Annually in Sales
Salary Range: 30 – 80k
17. Animator/Multimedia Artist
Animation is currently one of the most lucrative and well-sought-after careers because of the high salary and options it offers. If you're creative and visually oriented, animation could be a great career for you.
An animator's job is to use software to bring images and ideas to life in movies, television, advertisements, and video games. Depending on the job, animators can work from home, under contract, or at a studio.
To become an animator you'll need to take courses on animation and dedicate yourself to developing your skills. Animation is an art form and takes time to master. If you're a beginner who is starting on a budget, there are several free resources online to help you learn how to create animations.
How to Become an Animator
Business?
Salary?
Average Salary Range: 38 – 115k
18. General Manager
A general or operations manager of a business can be responsible for a wide variety of duties including but not limited to payroll, scheduling, budgeting, and creating/implementing business goals.
If you're great at multitasking tasking and managing a team, becoming a manager of a business could earn you more than the average college grad. Almost every business has management and the need for it isn't going away anytime soon.
In order to become a manager, you'll need managerial experience. Everyone has to start from somewhere. It's not uncommon for an entry-level employee to be promoted to a managerial position after gaining experience and proving their value in the business.
The more experience you have in management, the more doors open for you. After demonstrating that you can successfully manage a business or team, you can consider applying for more advanced and better-paying manager roles.
The Highest Paying Manager Jobs
Business?
Salary?
Salary Range: 38-96k
19. Detective/Criminal Investigator
In short, detectives and criminal investigators gather facts and evidence in criminal cases. They conduct interviews, collect forensic evidence, and participate in raids and arrests.
You can become either one by first becoming a police officer or a private investigator and then passing a special test to become a qualified detective.
On average, detectives/criminal investigators make a salary of $65,000. Detectives were paid the most in the District of Columbia at $94,000. The top four states for the highest paid detectives were New Jersey, California, Delaware, and Maryland.
This high pay is comparable to the number of stress detectives and criminal investigators face. When considering if this job is right for you, do your research and weigh the pros and cons.
How to Become a Detective
How to Become a Detective Without Being a Police Officer
Business?
Salary?
Salary Range: 35 – 161k
20. Sound Engineering Technician
A sound tech is responsible for ensuring all audio equipment is working properly during a performance or event. They also operate the equipment during the event to make sure any desired effects take place.
Not only are sound techs paid well, but they have a relaxed job with great job satisfaction. Many sound techs report having a good work-life balance and low stress.
While there are programs to help you learn how to operate the sound equipment, most of the required skills can be learned through on-the-job training. If you're young, the best time to start would be in high schools for your local events and plays.
How to Become a Sound Tech
Being a Sound Engineering Technician: What You Really Do
Salary?
Salary Range: 31 – 70k
21. Computer Network Support Specialist
With technology constantly advancing, there is a demand for people to help use their devices. That's where a computer network support specialist comes in. They help users resolve computer problems by troubleshooting network problems.
Plenty of businesses need computer networks support specialists to be available 24 hours a day. That means that a variety of schedules aside from the typical 9-5 are available. Some businesses will pay more for night shift employees and pay overtime. These are great opportunities to boost your pay and gain experience that could ultimately lead to a promotion.
Typically some computer-related classes or certification is required for most applicants to get their foot in the door. Experience is important when it comes to being a computer network support specialist. Businesses will want you to demonstrate you're capable of solving a customer's problems.
If you're analytical and have excellent customer service skills, this might be the job for you. The top 10% of computer network support specialists make a generous salary of $77,000.
Salary Range: 39 – 79k